Sexuality Traits of the Zodiac Sign Cancer
Cancer, regards sex as the finest way in which two persons devoted to one another can show their love. So, it's almost a sacred thing. Therefore, Cancer always sets out to make the act as sensual and fervent as ever possible. Something that heals all wounds and affirms trust in the blessing of being alive. That's the real pleasure for Cancer.
This makes fidelity one of the cornerstones in Cancer's sexuality. Sex should be an expression of love and trust, not just a thing for personal enjoyment. To Cancer, sex is all about giving the partner pleasure, not just trying to get oneself satisfied. What you give is more important than what you get.
Therefore, Cancer wants to be in command, feeling certain that it's the best for both. This command can be discreet, maybe even give the impression of obedience – but it's not. As with most things emotional, Cancer sets the stage and directs the play. Usually, the partner doesn't mind at all, since the result is quite pleasing.
It's not so easy for a partner to satisfy Cancer, and not only because the latter is so focused on giving instead of receiving. But by being the one in charge of the emotional process, Cancer has some difficulties opening up to the partner's efforts. It's not that Cancer becomes insensitive (never!), it's just that there is so much concentration on the partner. Sort of like a one-way street.
And when Cancer's engines really get started, then there's such a force, such an appetite, the partner might get intimidated. When Cancer's lust is awakened, it's vast and profound. The partner needs to give just about everything to meet it. Otherwise Cancer will end up with a remaining sense of frustration. The partner will not be kept unaware of it.
Mostly, though, sex with Cancer is a pleasure cruise, which will be remembered for long. It might not be so daring, if that's not called for, but it's physical and warm, sometimes even fiery hot. Usually, it's very satisfying to both. Cancer will not settle for less.
Sexuality and your Zodiac Sign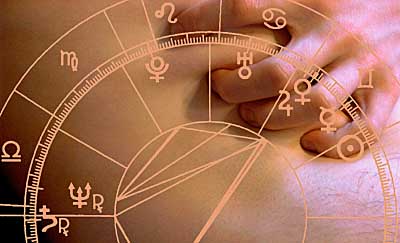 The most basic component of your horoscope is your star sign, which is the Zodiac sign the sun occupied at the time of your birth. The above text about your sexuality is based on that.
The sun is not really the driving force of a person's sexuality. You have to check your complete horoscope chart to get the full picture of your sexuality according to astrology. Still, your star sign gives some clues to your sexual habits and preferences.
Zodiac Sign

Sex Horoscopes

Here are links to all the twelve Zodiac signs and what astrology reveals about their sexuality traits.
Virgo
Sexuality
English name:
The Maiden (or Virgin)
Sun sign dates:
August 23 – September 22
Scorpio
Sexuality
English name:
The Scorpion
Sun sign dates:
October 23 – November 21
Sagittarius
Sexuality
English name:
The Archer
Sun sign dates:
November 22 – December 21
Capricorn
Sexuality
English name:
The Goat (or Sea-Goat)
Sun sign dates:
December 22 – January 20
Aquarius
Sexuality
English name:
The Water-Bearer
Sun sign dates:
January 20 – February 19
For those of you who prefer to read, here's the video transcription (click here to watch video)
---
Hi, it's Holly here again, and we're talking about sexuality and sensuality. And now we're going to talk about Cancer, the crab, what are they like under the covers?
They're a water sign, so they're very emotional, and they're extremely sensitive, so if you're in the mood, the best way to approach them is in a very soft, emotional, sensitive way. They also like the touchy-feely, soft music, candlelight, maybe a nice cozy dinner, and they want their blankets on, they're not ones to be exposed in the bed.
They like the big fluffy pillows and maybe a nice sensual garment in the bedroom. This is something, even the sound of water in the background with some soft music. This is something that really gets them in the mood for a Cancer sign, but if you're a Cancer you might wanna understand this about yourself, so if you've got yourself Sag or a fire sign, like a Leo, that's really, it's all about them, and they wanna just have fun, and let's get to it, and it seems like they're in a hurry, because that's how, they're fiery, and fire is very much moving on, it's in a hurry, it's fast moving, and if you're not like that, you might wanna explain that to your fiery lover, or even your air signs, for instance, such as Libra, or Aquarius, or Gemini.
So you like to take it warm, and slow, and cozy, and it has to come from the heart, so if you want to be in the bedroom with a Cancer lover, then it has to come from your heart. It has to be soft and warm, and they're very careful, very careful. Sex should be an expression of love and trust, and not just a thing of personal enjoyment for a Cancer. It's not easy for a partner to satisfy a Cancer, and because of their sensitivities, and it depending on the mood that they're in, depends on whether they're in a mood to have sexuality that day, or not in the mood for sensuality that day.
They seem to sort of flutter about in their emotions, and the more you get to know your Cancer lover emotionally, the more in tuned you are with them, the more that you'll be able to not only satisfy them, but be satisfied yourself in the bedroom.
So if you want to be with a cancer, take your time, take it slow, make it warm and cozy, and intimate, and emotional, and if you're a cancer in love, make sure that some of these needs are being met too, or you won't be too happy in the bedroom, but if you adhere to some of these tips, sensuality and sexuality will be yours in your partnership.